DO YOU WANT TO LEARN HOW TO CREATE BEAUTIFUL PHOTOS,
ALL BY YOURSELF, THAT STAND OUT AND TELL YOUR STORY?
HAVE YOU EVER WANTED TO TAKE A SELF PORTRAIT, BUT IT JUST FELT TOO INTIMIDATING AND AWKWARD?
I totally get it and know how you feel.
I've gone through the struggles of wanting to take my own creative self portraits and photos, but I was held back by the fear of looking ridiculous when I step in front of the camera. Also, photography can be a little overwhelming!
But, not to worry, in this class I'll guide you through the process I use to create beautiful self portraits (where you don't have to be a model to get amazing results) that get over 20,000 likes on Instagram in easy to follow step-by-step tutorials.
Let's embark on a journey of creating stunning photos, without any fancy gear or equipment, but by using our imagination and resourcefulness! All you need is to see the potential around you, and I'll help you along the way :)
Xx Kika
If I can do this, so can you!
I'll share my tools and methods that I've developed and perfected in the last 3,5 years of doing this full time, so that you can take your own creative self portraits and photos and feel inspired, motivated and proud of your work.
All you need is some curiosity, a bit of patience and I can almost guarantee that after watching this 75 min course you'll be filled with inspiration and the feeling that you can do this!
WHAT IF I DON'T HAVE A CAMERA?
No worries, you can do this class with both a camera or your smartphone.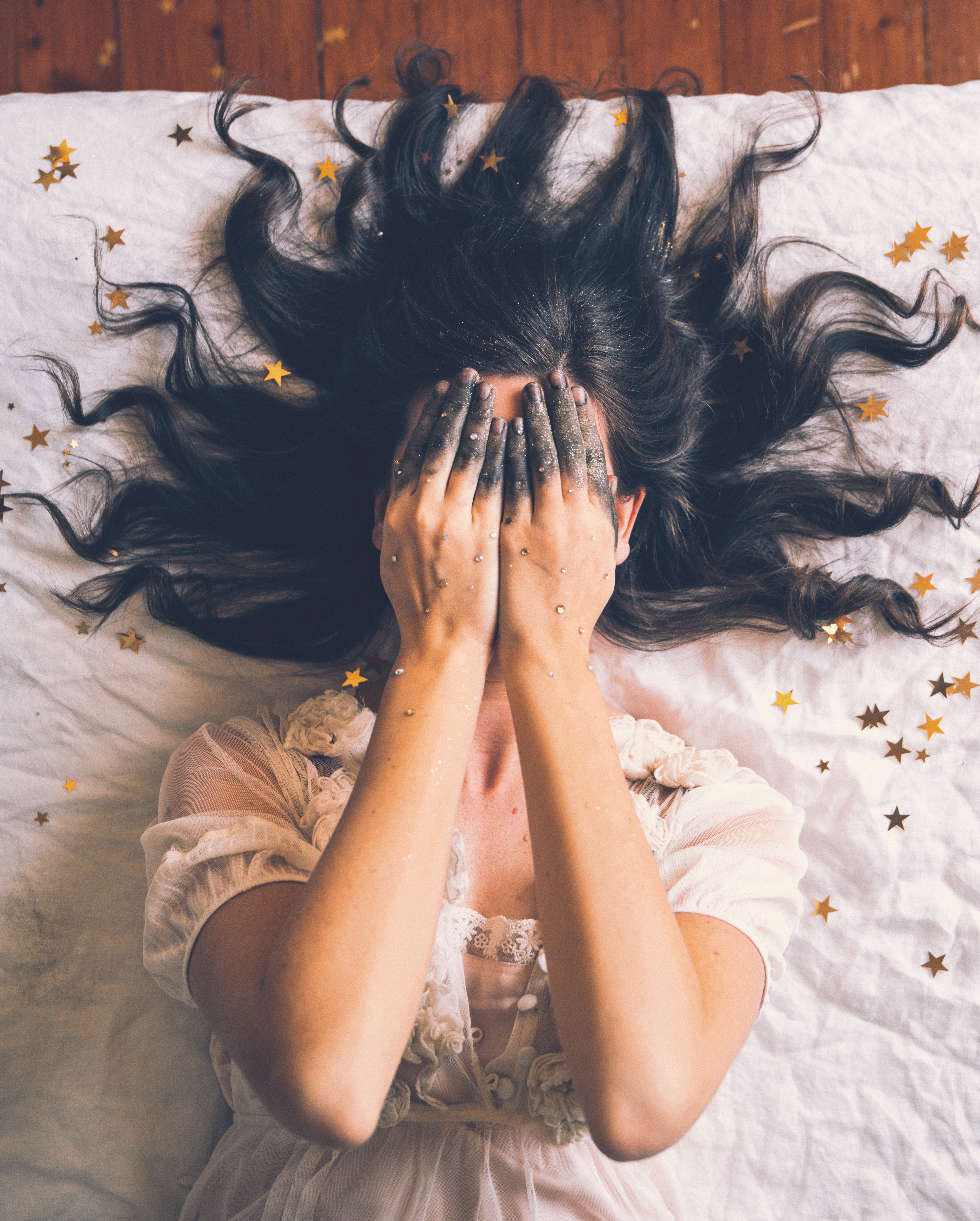 DO YOU EVER GET STRESSED OUT WHEN TRYING TO COME UP WITH CREATIVE PHOTO IDEAS? WHAT IF YOU'RE JUST NOT CREATIVE ENOUGH?
In the first module of the class we're going to talk about how to come up with ideas and develop a personal style, what to do when you don't feel inspired and the best ways to make sure you'll achieve the results you want with your photos.
We're going to cover everything you need to know to master creative photography with 3 photo projects, where you'll be able to follow along step-by-step to make the whole process seem easy peasy lemon squeezy!
We'll also talk about camera basics and gear, what mode to shoot in and how to get that lovely blurry background in a self portrait, and as a bonus I'm sharing some of my best tips on how to build a successful Instagram account.
THE POWER OF SELF PORTRAIT PHOTOGRAPHY
Being able to take your own creative self portraits and photos is such an empowering experience, and, I'm speaking from my own experience. I started out taking photos just for my knitting blog, with an iPad, seven years ago, to today having collaborated with brands like Disney, Nespresso and BMW.
Having the skill to take your own photos is also such a huge asset and means that you can start building whatever creative dream that you have.
The reason I've chosen this course to be centred around three creative photo projects, is because I want it to be very practice oriented. You will see immediate results and have some beautiful photos, that if you'd like, you can post them and share them online.
I find that the best way to learn is by doing and being very concrete, so that's why I've chosen to show you all the secrets and my process from start to finish in how I create my photos, so that you will have all the tools to be able to take your own.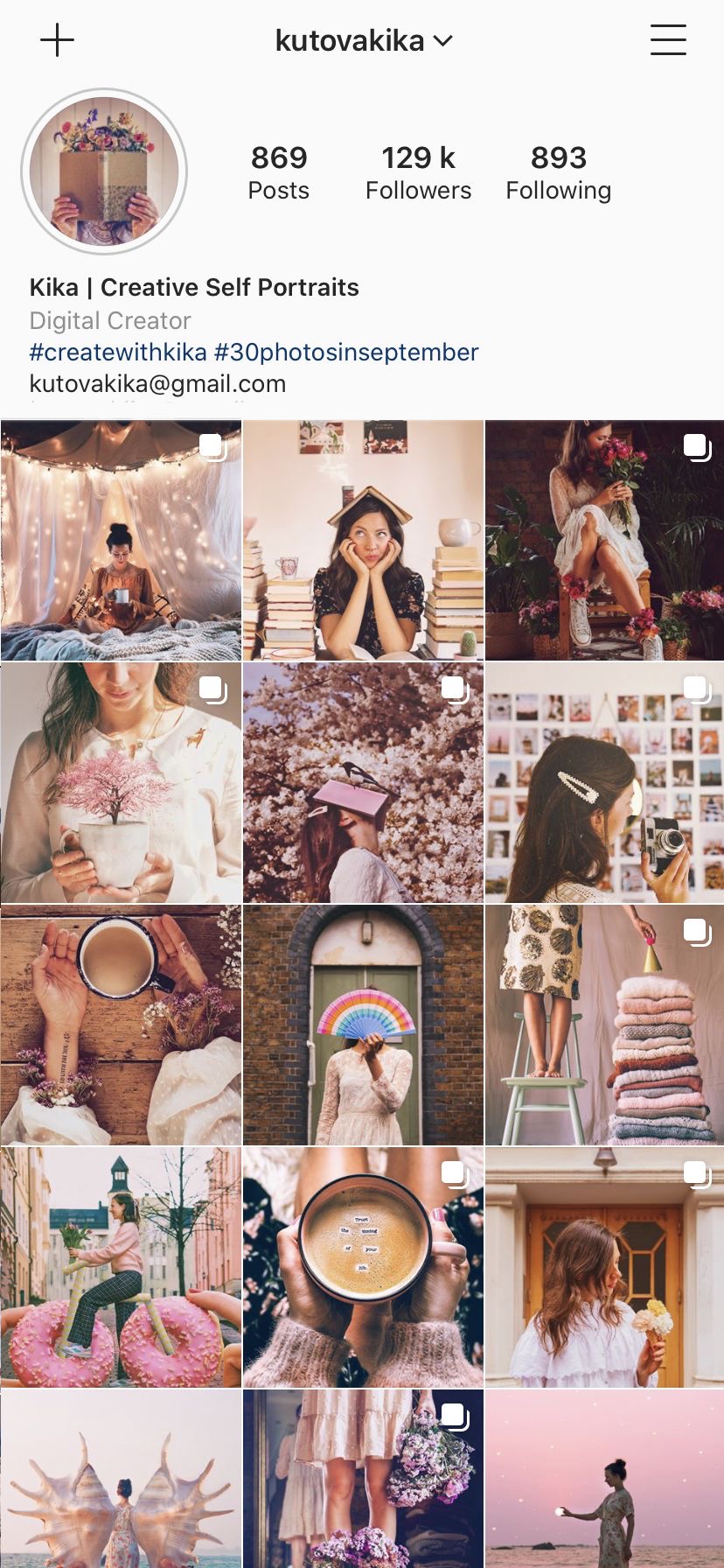 MAKE YOUR CREATIVE DREAM COME TRUE WITH BEAUTIFUL PHOTOGRAPHY
Learning to take my own photos and becoming a content creator has allowed me so much freedom in my life, and means I can work from wherever in the world. I started out doing this while living in Stockholm, then moved to London for two years, and now I'm back home in Helsinki, Finland.
I get brands who approach me and want to commission work that is specifically because of my creative style, and I want to share the knowledge that I've gained over the last years.
The is goal is to have such a strong personal brand and identity that the work will find you, so that you can focus on being creative instead of having to hustle.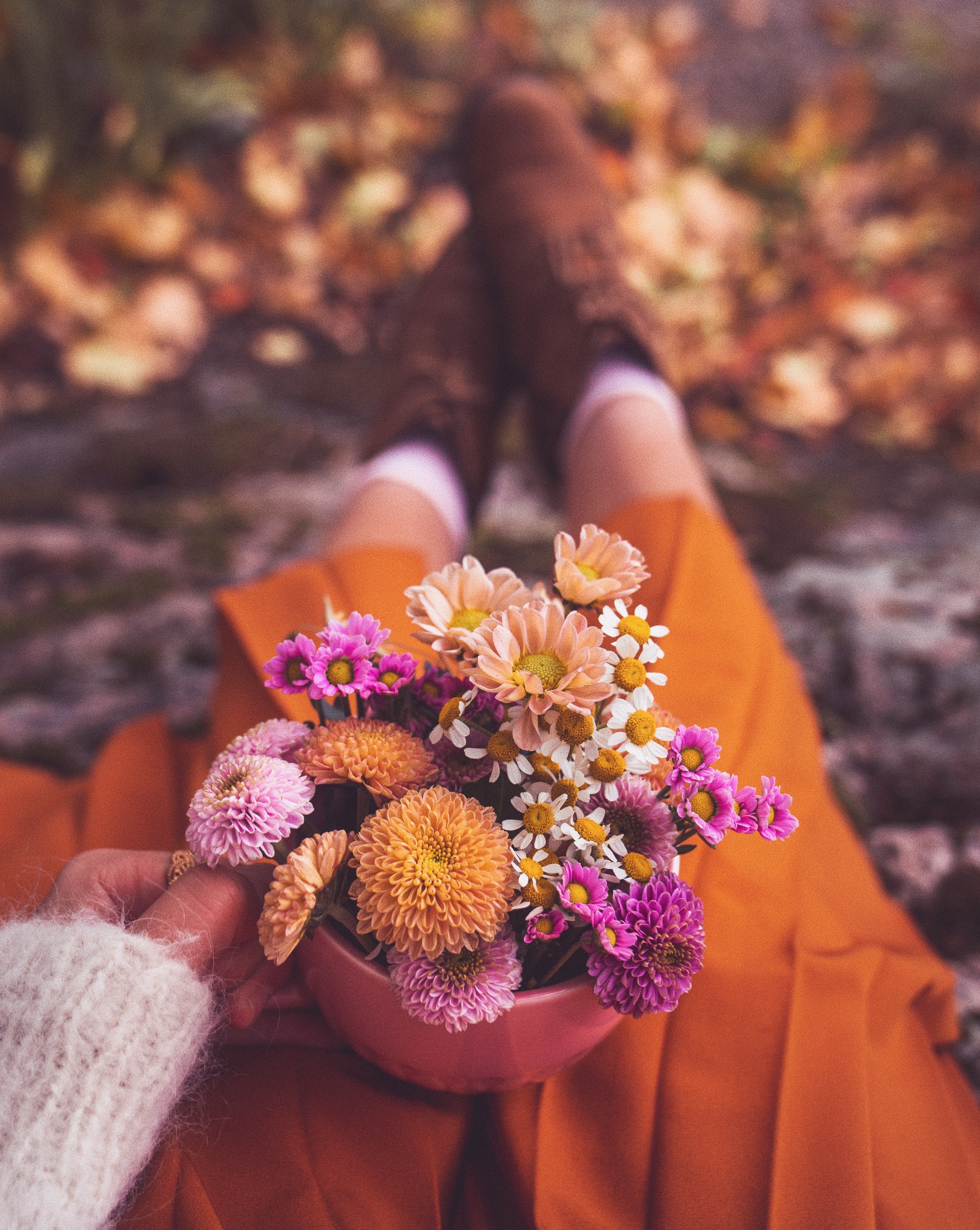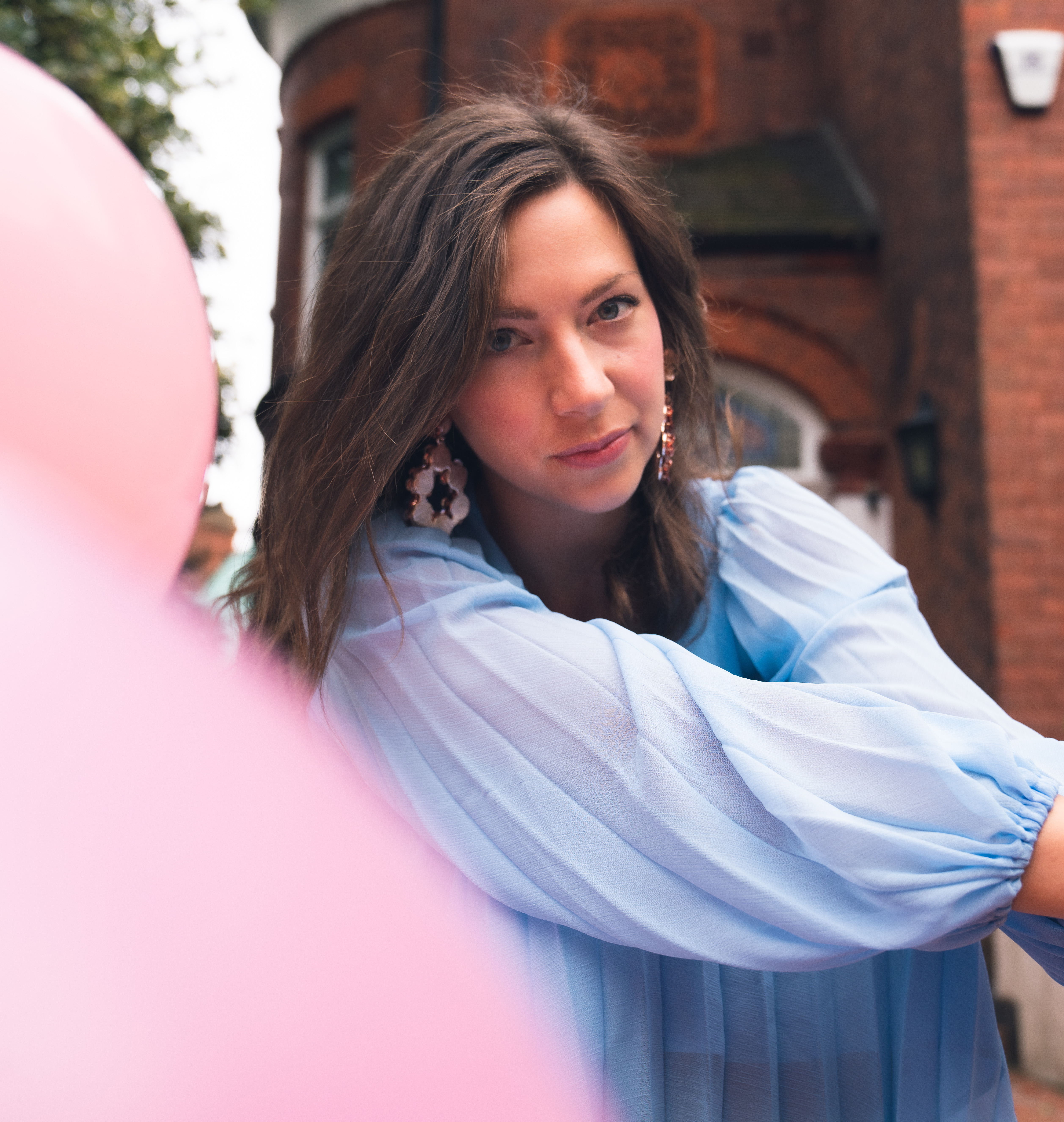 Hi!
My name is Kika and I'm a fulltime content creator on Instagram and YouTube.
Through my creative self portraits and photography tutorials I've built up a community of over 300k engaged followers online, and it's allowed me to live my dream life of being a content creator and having the freedom to work from anywhere in the world.
I've had the privilege to work with some brilliant brands like Nespresso, Disney, BMW, Vodafone, Odd Molly and Oral B through creative collaborations.
My favorite season to take photos is Autumn and Spring, and I love to take self portraits outdoors in nature.
I live in Helsinki, Finland, and during the dark Nordic Winter I love to snuggle up on the couch and knit with my two cats Luna and Bella.
What other students say about the course
"Thank you for an excellent course!  I appreciate that the videos are short and how one video slides over to the next. I particularly liked the "step by step" videos. It is easy to understand, and with some pausing of the video, I could do the same as you in Ps (Photoshop) – and got it! I also appreciate that everything said in the video are texted under the video.
My biggest "aha!" moment was when you said it's ok to use the P-mode on the camera. So little but so big! At that moment, I loosened up and felt that this is fun and not some competition in doing it as hard as possible for myself. But I also had an "aha!" moment after the whole course, all the pieces fell on their right place, and I got that relaxed feeling of how I could do things. You showed me all the missing pieces in my creative photography puzzle, and now it's just up to me!"
-Charlotte, Sweden
"Hey Kika,
Thank you so much for this course!
It was super helpful. I usually feel overwhelmed to create any kind of content and feel stressed when I have no ideas. Your course helped me to streamline my process :)"
-Nikita, USA
"Hi Kika!
Thank you so much for this course. I have really enjoyed it. I have been a photographer for many years and have always wanted to take on some self portrait projects, but I always get stuck when it comes to putting myself in front of the camera. I finally played around with a couple of projects last week using some of your inspiration and it was so fun!! Which was also my biggest takeaway - to just have fun with it and not to take it too seriously. Play and make mistakes! :) I'm hoping to try a creative flat lay soon."
-Kim, USA
"Hello Kika!
Firstly, thank you so much for putting together such an inspiring photography class. I want to express how grateful I am for your creative eye and how inspiring you are. Times are really difficult for me and my family right now, but having photography to look forward to helps set goals and ease my mind from all the madness going around. I run a healthcare-ce terre business, work 12-14h days, I'm a mom of 3, and I only have late nights or weekends to dedicate to creative things, such as photography, painting or sewing. 
So, THANK YOU for being such a driving force and a light in times of darkness."
-May, Canada